Tucked along the western edge of Door County and situated on the bay of Green Bay, Fish Creek, Wisconsin is a haven of relaxation and recreation. Its rich history, love of the arts, and strategic Lake Michigan location are unique to the Door County peninsula.
An enviable setting
Fish Creek is a warm, friendly community immersed in natural beauty and situated along the ancient Niagara Escarpment. Located just south of Peninsula State Park, Fish Creek serves as the entrance to this premier Midwestern park.

Head further down Highway 42, and you will find yourself in the heart of the village, amongst boutique shops and outstanding eateries which are just a short walk from Fish Creek's stunning sunsets—a genuine bucket-list item in Door County.

Let's explore 25 things to do in Fish Creek, Wisconsin.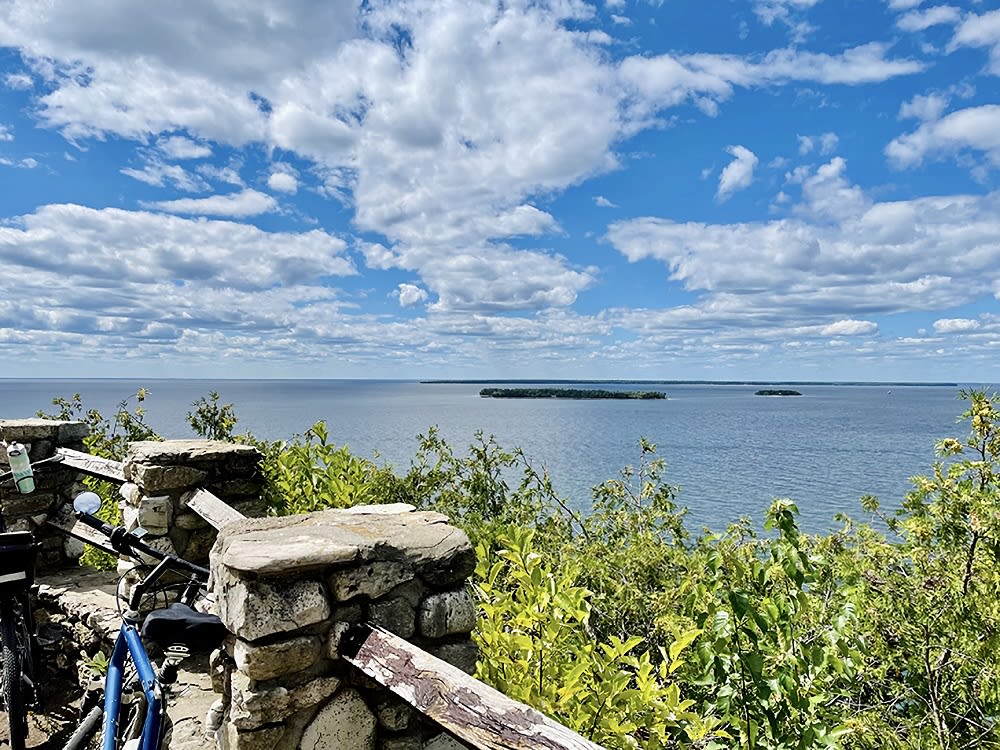 Peninsula State Park
This state treasure spans 3,776 acres of pristine, forested land extending into the bay. Established in 1909, it has become a recreation destination and the crown jewel in Door County's impressive collection of six state parks.

Peninsula State Park offers over 20 miles of invigorating hiking trails. The park's waterfront is perfect for fishing, swimming, boating, and kayaking. Biking and birding are also popular past times. The park is an all-season playground that includes:

Camping: Among its most notable attractions, the park boasts five campgrounds with 450+ family sites. Unsurprisingly, Peninsula State Park is Wisconsin's most popular place for camping.

Eagle Bluff Lighthouse: Dating back to 1868, the historic Eagle Bluff Lighthouse served as a guiding light for those navigating the often treacherous waters along Door County's shoreline. In service for nearly 60 years, the lighthouse is now one of the region's most popular museums, with guided tours offering a glimpse into the lives of the early lighthouse keepers.

Eagle Tower: For a unique and elevated perspective of Fish Creek, ascend the 60-foot-high Eagle Tower and take in the views of the surrounding forest and the bay below. Completed in 2021, the third iteration of Eagle Tower is accessible via a 100-step climb at the base of the tower or a more accessible 850-foot-long canopy walk that winds through the forest before finishing at the tower overlook.

Northern Sky Theater: Experience magical nights of storytelling under a starlit sky at the Northern Sky Theater, an outdoor performance venue nestled amongst the trees on park grounds. Family-friendly theatrical productions run from June to August. Fall and winter shows are performed at Northern Sky's indoor Gould Theater.

Peninsula State Park Golf Course: For a century, Peninsula State Park Golf Course has entertained golfers with its immaculate grounds and stunning views. Facilities include the 18-hole main golf course, an award-winning 6-hole course, a clubhouse with a restaurant, and a fully stocked pro shop.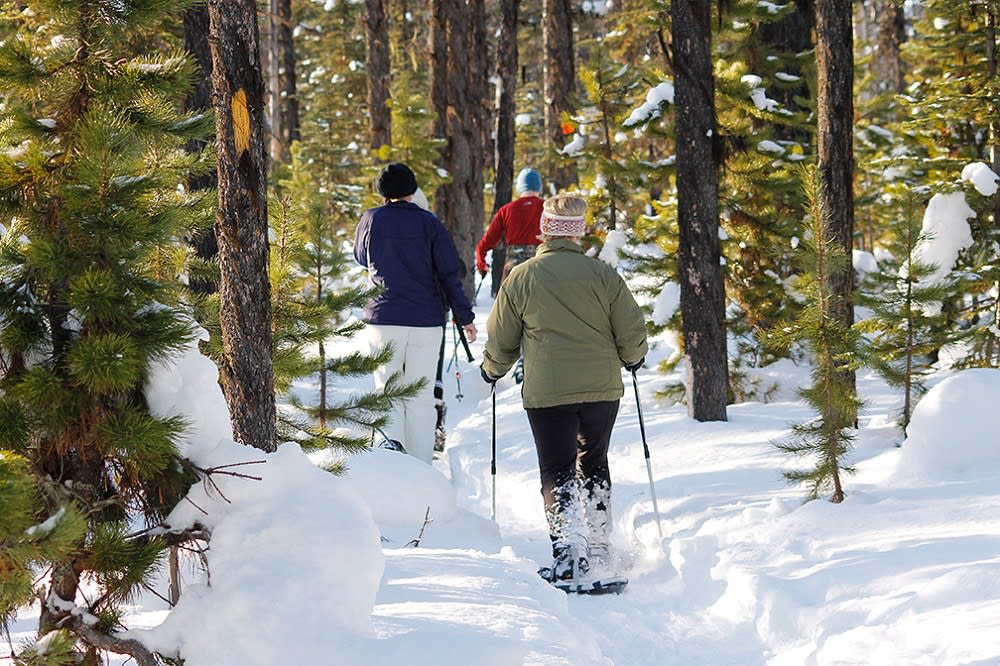 Winter activities: As previously noted, Peninsula State Park is a four-season destination, and although snow often blankets the grounds in the heart of winter, cold-weather recreation abounds as the park welcomes those partaking in hiking, cross-country skiing, and snowshoeing.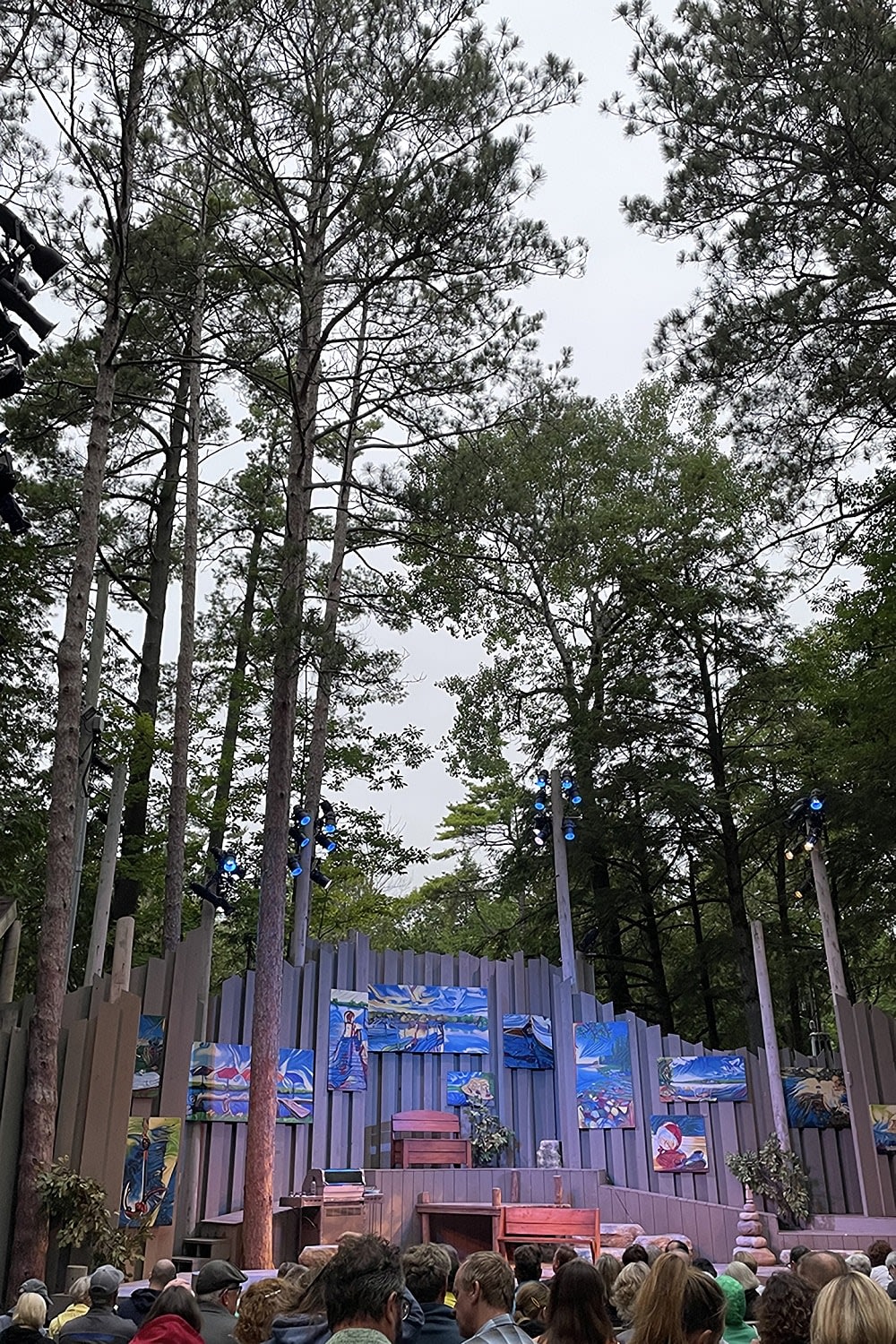 A history celebrating the arts
Peninsula State Park is not the village's only source of year-round entertainment. Throughout its history, Door County has always drawn artisans, artists, and performers who are inspired by the peninsula. The region hosts several outstanding art galleries, curated collections, and performance venues that celebrate art across many mediums.

Fish Creek is a popular spot for artists to ply their craft and includes several of the county's most well-known and frequented art galleries. Favorites include Edgewood Orchard Galleries, Plum Bottom Gallery, and one-of-a-kind pieces at Burnt Bluff Stone and Glass.

The Peninsula School of Art is a steady source of shows, classes, and events. The Guenzel Gallery is home to a revolving cast of fine arts exhibits and displays. The annual juried Plein Air Festival in July is one of the Midwest's premier outdoor painting competitions.

Fish Creek includes several treasured performance venues. The Door Community Auditorium is the heart of the county's performing arts community and serves as the host venue for the annual Peninsula Music Festival.

The Peninsula Players Theatre is recognized as America's oldest professional resident summer theater, with a history spanning 88 years. The outdoor theater is renowned for its Broadway-quality productions in a picturesque setting along the shoreline.

Northern Sky Theater's Gould Theater is an indoor venue in Fish Creek where patrons enjoy custom-created content as well as time-honored classics throughout the year.


Shop and dine
The village of Fish Creek is home to an eclectic mix of restaurants, each presenting a unique range of tastes. From breakfast at Shiny Moon Cafe to lunch at Julie's Park Cafe to a steak dinner at Alexander's of Door County–there is something for everyone.

Experience an upscale supper club atmosphere at Barringer's Restaurant or grab a burger and a cocktail at local-favorite, Bayside Tavern.

Fish Creek is also home to Founder's Square, which is a unique collection of shops and eateries on Main Street and anchored by Door County Confectionery. Right next door is Hide Side Corner Shop which specializes in high-quality leather goods. A little further north on Highway 42 is Sister Golden, where you can find globally-curated home décor.

From May through October, visit Rummele's Jewelers, a prestigious name for fine jewelry and watches in Door County.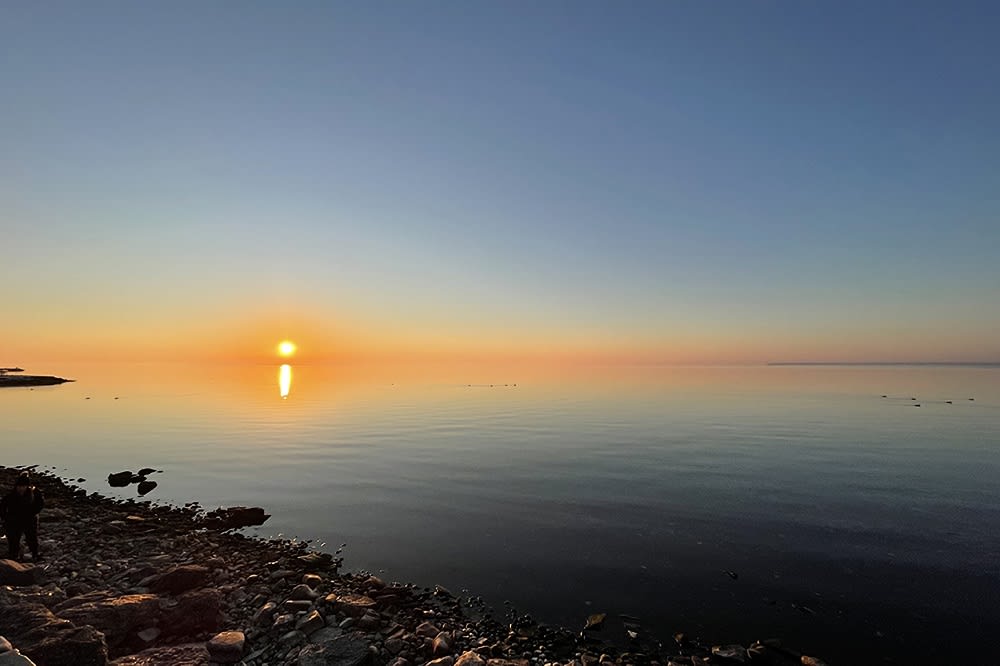 Sunset Beach Park
Finally, when it comes time to call it a day, there is no place like Sunset Beach Park. Follow Main Street west until it ends and you'll find the quaint waterview park. Few spots along Door County's shores provide a more stunning and accessible view of the legendary sunsets. While not unusual for a crowd to gather at dusk, the park is a tranquil setting for picnics and reflective relaxation any time of day.
Discover the best of Fish Creek with a trusted partner
Are you ready to explore the best of Door County real estate?
Contact Diane Taillon
and the team at Arbor Crowne Properties today to start your home-buying journey. Diane and her team's knowledge and expertise will help you navigate the Fish Creek luxury real estate market.